Improvement is the mainstay of every successful
enterprise. This guide shows you how to
implement this principle into your company's
culture.
The Necessity of Improvement
Progress is the necessary goal of companies in every field of industry. Without progress, there's only one direction to go:
backwards.In water management, stagnation is the enemy. When water isn't flowing, when it pools and then settles, bacteria
begins to grow. Unwanted parasites can breed. Similarly,stagnation in business is the enemy to growth and prosperity. The antidote? Continuous improvement, also known as kaizen.
Improvement keeps businesses moving forward, toward a lucrative and productive future. When a company adapts a continuous improvement model, that company strives to grow and be better in its processes in small but impactful ways. A commitment to excellence by testing and improving workflow and processes means more efficient production and less overall waste.
Kaizen—a Japanese phrase that roughly translates to continuous improvement, and is often used synonymously with continuous improvement programs in the West—first became a part of manufacturing at Toyota in the early 1950s. Kaizen has long been an integral stitch in the fabric of Japan—the idea of always working toward betterment can be seen everywhere, from the top office of a major corporation to a fishing village off the Western Coast.
Many scholars attribute kaizen to Japan's transformation from a defeated wartime nation to an industrialized global powerhouse.
Continuous improvement is a philosophy that enables everyone to take control of their work process and improve the system in which they work. By learning to watching for possible improvements, people are able to contribute in small ways that benefit the organization.
Continuous Improvement: An Overview
Once implemented, continuous improvement will transform the culture of your workplace. All teams companywide will be striving toward working smarter, more effectively. Unlike many innovations, continuous improvement campaigns do not require expensive mplementation costs. The core principle behind this philosophy is to make small, immediate changes in the processes and standards of the workplace. Searching for paths to a better process should be a part of everyone's job. It should be the question workers, managers, and leaders ask themselves a few times a day:
How could we have done that quicker, safer, or more efficiently?
Kaizen is an attitude and a lifestyle; this philosophy of continuous workplace improvement isn't a quick fix. This is a long-term attitude shift that, one step at a time, transforms the way a company operates for the better. Continuous improvement is the tortoise; quick fixes are the hare. In order to truly experience
the benefits of continuous improvement, a company must have patience and faith in the slow but steady process, which relies on long-term, long-lasting, and relatively nondramatic changes. Kaizen is a group effort; everyone needs to be involved. The process requires minimal monetary investment, but a large investment in effort, cooperation, and training. The results, if done right, will be revolutionary.
Continuous Improvement (kaizen) is a process.
It is not a one-time adjustment made to make this quarter's numbers look better. It must become a daily part of every
worker's routine. It must become part of the company's culture so managers and employees are constantly looking
for small ways to improve the workflow. When that happens, you will have an organization that has become
lean, mean, and efficient. This is the essence of kaizen. This is its greatest strength.
Gemba: The Necessary Piece of Continuous Improvement
Gemba is to continuous improvement as Robin is to Batman. It is the necessary component that makes continuous improvement the powerful facility-changing philosophy it is. Gemba is a Japanese term that means "real place." In kaizen, the mantra is "Go to Gemba First." This means that you must go to where the work is done—the production floor, the warehouse, the factory, etc.—in order to get a
good idea of what can be improved upon. To make changes in a process, you must first understand the process.
Managers' work often keeps them in their offices or attending meetings. They often know about the manufacturing process in only an abstract sense through reports. The continuous improvement process requires them to get out and see production for themselves. Once
they know the processes, they'll be able to help make the small improvements that are the backbone to kaizen. Mangers need to watch and learn how their teams are completing their work. Japanese companies require gemba to be the responsibility of all employees, from custodians to CFOs. They are required to observe processes to get a better understanding of their own positions. Continuous  improvement is a model that relies on every worker's participation to succeed.
Continuous Improvement Concepts
Management has two functions in continuous improvement: maintenance and improvement. Setting standards, then keeping them is a critical element of continuous improvement. Management's primary role is to maintain the technological and operating standards
agreed upon by their respective companies. Managers ensure that the members of the team have the tools and resources to perform their role in the way the standards dictate.
Management's other important task is pushing for, and facilitating, improvement. They must be constantly seeking  paths towards better processes and higher standards, and they need to encourage workers to do the same. It's important for management to foster an environment that allows workers to pitch ideas for improvement. Continuous  improvement comes from everyone working toward that
goal.
Process vs Results
Process is the sacred pursuit of continuous improvement. Traditionally, companies focused too much on results and cared little for the process. Kaizen aims to reverse those priorities. Continuous improvement's focuses its energy on process, knowing that strong processes yield stronger results.
PDCA Cycle
The PDCA cycle is a system that compounds continuous improvement principles. It is a vital part of the process.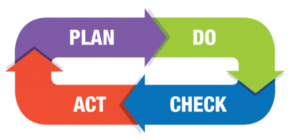 Plan refers to establishing a target and a strategy for  improvement. This is a must. Without a target,
how do you know if you have achieved success? Do refers to the implementation of your plan.
Check is when you determine if your plan actually improved the process. Act is the process of standardizing the improved
procedure so that it can be continued and so that the problem will not return.